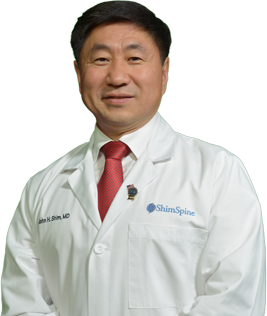 Dr. Shim is an Orthopaedic Spine Surgeon, in practice in the Tampa Bay area since 1993. Dr. Shim's specialty interests include outpatient neck and back surgery, as well as non-operative solutions to neck and back problems. Treatment options include injection therapies. As Past Chief of Surgery at the Mease Hospitals, and the Director of the Mease Dunedin Neuro-Ortho Spine Center, he has the experience, and knowledge to direct your spine care needs.
The website Shim Spine has a purpose of educating our patients about the spine, the causes of spine pain, and potential surgical and non-surgical solutions. Our office is located in Westchase, a suburb of Tampa Bay, Florida.The site has information about the surgical procedures offered by the practice. But, it also has information on non-surgical options such as exercise, and injections. WE DO NOT accept any advertisements for medical products!
Through Shim Spine, we desire to provide the most up to date, and balanced information on Spine problems. We want to share information about your spine problems, not just promote trends or fads. Please explore our Blog's for information for patients, with categories including Neck Problems, Back Problems, and Scientific research.
For patients in need of care, please take time to seek proper medical advice, as although the web provides excellent information, there is no substitute for a professional opinion by your trusted physician. The Shim Spine website is not a substitute for a proper evaluation.
If you live in the Tampa Bay area, or if you are visiting, we would be honored to evaluate your particular spine or orthopaedic related condition. Please call our office to make an appointment. If you have had prior surgeries, or evaluations, we may ask you to forward the records so we can determine whether you would be an appropriate candidate for evaluation.
This site is entirely funded by John H. Shim, MD. There are no commercial advertisements of products, and any mention of medical products is not an endorsement.