Introduction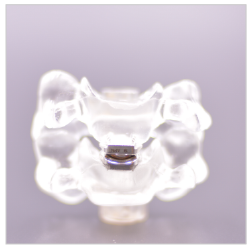 As an alternative to a cervical fusion, cervical disc replacement involves the placement of an implant to preserve neck motion. This procedure commonly is used to treat
cervical disc herniations
,
cervical spinal stenosis
, cervical degenerative disc disease, and
cervical radiculopathy
.
Cervical Disc Replacement (also known as Cervical Artificial Disc Replacement) is still relatively new to the U.S, having been first approved in 2007. At present, there are several different implant designs of cervical artificial discs. Published outcomes have shown a very high success rate in alleviating radiating pain in the arm(s) and scores high in satisfaction for the appropriately selected patient in the short-term. Long term outcome data is not available. The hope with cervical disc replacement is that it will protect against, or at least minimize, the risk of developing degeneration above or below the level being operated on.
This procedure can be performed on an outpatient basis for many patients. As with any surgical procedure, there are potential risks and benefits that should be discussed and considered.
Description of Procedure
This surgery is performed under general anesthesia. Once you are comfortable and asleep, you will be positioned on your back. Live x-ray is used to localize the area of your incision.

A small incision will be made along the anterior (front) side of your neck going slightly to the left side. A plane is entered between layers of muscle that allows for access down to the level of bone (front of the neck). Once the correct disc is identified, a discectomy is performed to remove a majority of the disc from the front of the neck. The decompression can then be performed which allows the surgeon to remove any pressure off of the nerve roots and/or spinal cord from disc material or bone spurs.

Once decompressed, the correct sized implant will be determined using specialized instrumentation. The implant will be then placed into the disc space and confirmed using live x-ray.

The advantage of this approach is that it allows the surgeon direct access to the level of the disc and bone while only having to split a minimal amount of muscle. This helps limit post-operative pain. Also, since the goal of this surgery is to maintain natural motion, immobilization with a cervical collar is not necessary.
Risks
Some of the risks and complications associated with this procedure include:


Wound infection


Hematoma


Damage to carotid artery resulting in excessive bleeding or strike


Nerve injury including paralysis


Loss of bowel or bladder function


Difficulty swallowing


Hoarseness (temporary or permanent)


Hardware failure including breakage and premature wear


Subsidence of the implant and/or dislodgement


Pseudoarthrosis (failure to fuse)


Blood clots


Development of degeneration at segment above or below level operated on


Numbness (temporary or permanent)


Incomplete relief of symptoms


Risks associated with anesthesia


Cervical Disc Replacement
Disclosure Statement
The information provided on this website does not provide or should be considered medical advice. It is not a substitute for diagnosis or treatment of any condition. The information provided is for informational purposes only. You should not rely solely on the information provided on this website in making a decision to pursue a specific treatment or advice. You should consult directly with a professional healthcare provider.

As a condition of using the information on this website, ShimSpine and its physicians are not responsible for any advice, diagnosis, treatment or outcome you may obtain.

ShimSpine.com is completely self-funded. No outside funds are accepted or used. This website does not utilize paid advertising as a source of revenue.