Introduction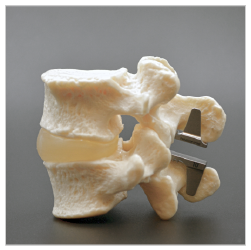 A Lumbar Interspinous or Interlaminar Spacer is an implant used to stabilize the spine following a decompression. In some cases, this technology is used in place of a traditional spinal fusion.
This procedure commonly is used to treat a
lumbar spinal stenosis and lumbar spondylolisthesis
.
At present, there are several different interspinous devices available. This intended to be a less invasive approach to stabilize the spine and maintain pressure off the spinal nerve while allowing natural motion.
This procedure can be performed on an outpatient basis for many patients.
As with any surgical procedure, there are potential risks and benefits that should be discussed and considered.
Description of Procedure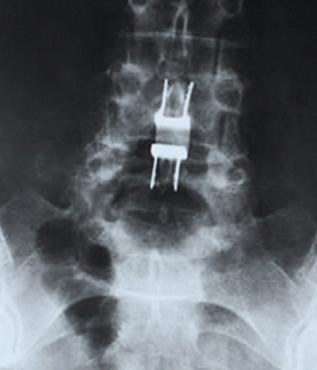 This surgery is performed under general anesthesia. Once you are comfortable and asleep, you will be positioned on your stomach. Live x-ray is used to localize the area of your incision.
A small incision will be made along the midline of your low back. Using specialized retractors, the surgeon will develop a plane through layers of muscle that will allow access to the affected area. Once the correct level is confirmed, using a high speed drill and cutting instruments,, small fragments of bone and ligament will be removed to uncover (decompress) the individual nerve root(s).
Following the decompression, the surgeon will select the appropriate size interspinous or interlaminar device and place it along the backside of the spine. X-rays are used to confirm correct placement.
Any muscles that were split at the beginning of the procedure are sewn back together and the skin is closed with either dissolving sutures or skin staples. The advantage of this less invasive approach is that it can alleviate radiating pain into the leg(s) while providing mechanical stability to minimize or prevent the development of instability without the need to fuse bones together. The device can easily be removed if necessary.
Risks
Some of the risks and complications associated with this procedure include:


Wound infection


Hematoma


Bleeding


Nerve injury


Loss of bowel or bladder function


Blood clots


Numbness (temporary or permanent)


Scarring of the nerve(s)


Fracture of bone


Mechanical failure or dislodgement of device


Incomplete relief of symptoms


Risks associated with anesthesia


Evidenced Based Links
Coming Soon
Device Information
Lumbar Interspinous Spacer
Disclosure Statement
The information provided on this website does not provide or should be considered medical advice. It is not a substitute for diagnosis or treatment of any condition. The information provided is for informational purposes only. You should not rely solely on the information provided on this website in making a decision to pursue a specific treatment or advice. You should consult directly with a professional healthcare provider.

As a condition of using the information on this website, ShimSpine and its physicians are not responsible for any advice, diagnosis, treatment or outcome you may obtain.

ShimSpine.com is completely self-funded. No outside funds are accepted or used. This website does not utilize paid advertising as a source of revenue.