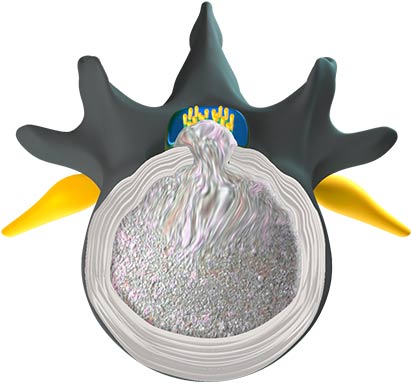 Cauda Equina Syndrome
At the bottom of the spine, near where the lumbar vertebrae start, is the cauda equina. This is a bundle of nerves shaped like a horse's tail that provide nerve function to the legs, feet and pelvic organs. In Cauda Equina Syndrome, these nerves are completely or partially blocked from sending proper messages to these areas.
Symptoms include low back pain, numbness or weakness in one or both legs and a decreased sensation in the pelvic area. Loss of control over bladder or bowel function (retention or incontinence) is part of this decreased sensation and the patient may often report sexual dysfunction.
Causes of Cauda Equina Syndrome include, a large lumbar disc herniation (most common), severe spinal stenosis, tumor, infection, hemorrhage or fracture. Any severe injury to the back, such as a fall, can also cause this.
Surgery is discussed immediately on diagnosis as the longer there is pressure on the nerves, the less likely it is for the patient to recover all function.
Treatment to be considered:
Posterior Lumbar decompression (laminectomy)
Posterior Lumbar discectomy
Lumbar fusion
Disclosure Statement
The information provided on this website does not provide or should be considered medical advice. It is not a substitute for diagnosis or treatment of any condition. The information provided is for informational purposes only. You should not rely solely on the information provided on this website in making a decision to pursue a specific treatment or advice. You should consult directly with a professional healthcare provider.

As a condition of using the information on this website, ShimSpine and its physicians are not responsible for any advice, diagnosis, treatment or outcome you may obtain.

ShimSpine.com is completely self-funded. No outside funds are accepted or used. This website does not utilize paid advertising as a source of revenue.