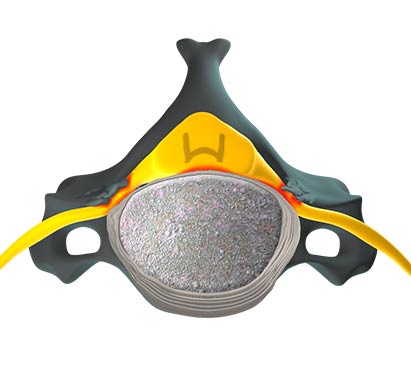 Cervical Stenosis
Most neck pain is due to degenerative changes that occur in the intervertebral disc of the cervical spine or the joints between each vertebra. Perhaps the most serious of the problems caused by degeneration of the cervical spine is the condition of spinal stenosis.
As we age, the disc loses some of its water content and as a result, some of its shock absorbing ability. It also decreases the opening in the spinal column where the nerve nerves exit (foramen). It is thought that too much motion on the spinal segment causes the bone spurs to form. Eventually the bone spurs can form around the nerves of the spine and also decrease the size of the foramen.
The narrowing of the foramen can lead to neck pain and upper extremity pain, numbness, tingling or weakness. The tighter the opening for the nerve, the more symptomatic the patient will be. This is called cervical radiculopathy.
When there is a narrowing of the spinal canal, the whole spinal cord may be affected. This could have the symptoms already mentioned but also, in the lower extremities, there could be numbness and weakness reported. This is called cervical myelopathy. Reflexes may be increased in the legs and strength may be lost. Walking could be compromised and the patient may refer to tripping over things and being "clumsy".
The treatment is quite different depending on the symptoms of the patient. There are several conservative measures for radiculopathy. With myelopathy, the patient should have a surgical consult due to the pressure on the spinal cord.
Treatment
Depending on the specific nature and location of the problem, possible conservative treatments include:
Physical therapy
Injections
Behavior modifications (weight loss, quit smoking, no heavy lifting)
Environmental modifications (ergonomic chair, elevated desk).
If conservative measures are unsuccessful, surgeries could include:
Anterior Cervical Discectomy with Fusion (ACDF)
Posterior Cervical Foraminotomy
Posterior Cervical Decompression
Disclosure Statement
The information provided on this website does not provide or should be considered medical advice. It is not a substitute for diagnosis or treatment of any condition. The information provided is for informational purposes only. You should not rely solely on the information provided on this website in making a decision to pursue a specific treatment or advice. You should consult directly with a professional healthcare provider.

As a condition of using the information on this website, ShimSpine and its physicians are not responsible for any advice, diagnosis, treatment or outcome you may obtain.

ShimSpine.com is completely self-funded. No outside funds are accepted or used. This website does not utilize paid advertising as a source of revenue.